Home buyer slump puts pressure on Stockland
Australia's extended lockdown and sudden halt to migration are undermining diversified developer Stockland's strong start to the year and threatening earnings from its land estates and retail portfolio.
Stockland, the country's largest house and land developer, is a bellwether for home buyer sentiment but its strong pre-virus home buyer-driven recovery has come unstuck in the pandemic, with its retail portfolio also hard hit by the COVID-19 outbreak.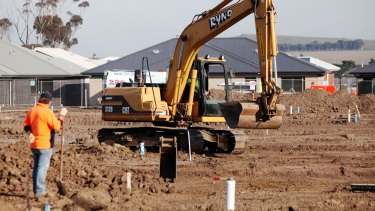 "Settlements are running in line with pre-COVID levels, it's been sales where we've seen the real slowdown with the restrictions on people's movements," chief executive Mark Steinert said.
Prior to the virus outbreak, Stockland had experienced a promising start to the year. Sales on its housing estates were strong and the transformation of its retail centres was going well.
In a quarterly update on Wednesday, it reported a sharp slump in land sales in late March and April that is likely to weigh on earnings, with sales contracting to 137 lots in April. By the end of the quarter it had settled 3034 lots, 59 per cent below its pre-virus guidance of 5200 lots for the financial year.
However, despite the turmoil and uncertainty caused by the COVID-19 outbreak, it said settlement rates for land lots on its estates are stable and buyer defaults are relatively low, at about 4 per cent.
The $6.5 billion ASX-listed property manager owns and develops popular housing estates such as The Gables in Sydney's north-west and Cloverton in Kalkallo on Melbourne's northern fringe.
Stockland warned, however, while new buyer inquiry has recovered to pre-COVID levels, it was still too early to identify clear trends. "We remain cautious about the shape and speed of recovery of the market," Mr Steinert said…
This article is from the Sydney Morning Herald and you can read the full article here:
https://www.smh.com.au/business/companies/home-buyer-slump-puts-pressure-on-stockland-20200513-p54si5.html